I am no stranger to hardship. In fact, I live it daily. Beneath the smiles is someone who is struggling–someone who awakens each morning and says, "Let's give this life a shot again today." Every healthy decision I make for my body gets me one step closer to my end goal–remission. However, the process is long and grueling, and with each setback, I live through brutal periods of discouragement often unseen by the world's eyes.
Nearly a decade ago, the doctors diagnosed me with the first of a series of health conditions, called Interstitial Cystitis (IC)–an extremely painful, inflammatory condition of the bladder that substantially reduced my ability to work and profoundly impacted my quality of life. I was in agony, and I was not finding success with the available treatments. Chronic pain often brings about an inadvertent seclusion. In other words, I was heartbreakingly lonely because I quickly became isolated and unable to keep up with my active and social lifestyle.
Around the same time I was diagnosed with IC, I got married to my fiance, Tom. On our wedding day, he chose to walk the long, twisting road of illness hand-in-hand with me. I am not sure he fully knew what he was getting himself into, but he has never once questioned the challenging hand dealt to us.
Tom came into the marriage as a package deal–he and his sidekick, rescue dog named Seven. At that time, she was a feisty, seven-year-old, beagle with hazel eyes who pranced to the beat of her own bark. True to beagle form, "Stubborn" was (and still is) her middle name. Unlike other dogs, Seven never cared much for affection, cuddling or amusing her human owners. "She's particular," we said as she wiggled away from any attempts to snuggle with her. She was my first dog and has the distinction of being the most boisterous pooch on the block.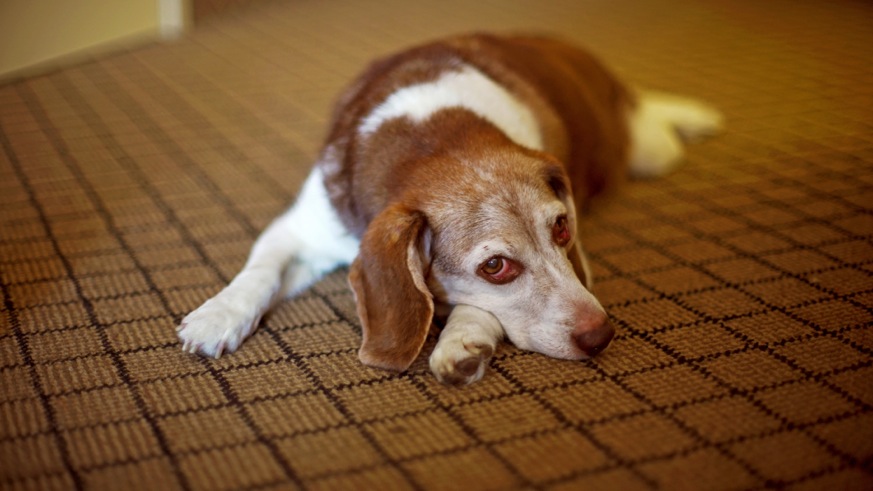 As one medical treatment after another failed me, I shed numerous tears. There were times I felt stuck and would crawl into bed, holding tightly to a small sliver of hope that I was in some such way still able to be helped. Typically, the days spent by myself while Tom was at work were the most challenging for me; the discomfort was unbearable.
Much to my surprise, Seven frequently appeared beside my bed, gazing up at me with almost human-like eyes. It was as if she knew I was hurting, and in her willful way, she tried her best to comfort me. Though she was cautious, she let me scoop her up, and I laid her beside me on the bed. Then, she allowed me to rub her belly for hours at a time. In her unique way, she helped me survive the bleak days of being newly diagnosed with a chronic illness no one knew much about.
After a few years of marriage, my health stabilized a bit, so my husband and I decided it was time to add a second dog to our little family. At the shelter, we met an overweight, six-year-old beagle named Caylie. She came with a list of health problems, but her easy-going and bubbly disposition made her irresistible. She had an unusual, scorpion-like tail, and deep, black eyes that pierced our hearts like lasers. Despite her health issues, she was perfect, and we adopted her on the spot.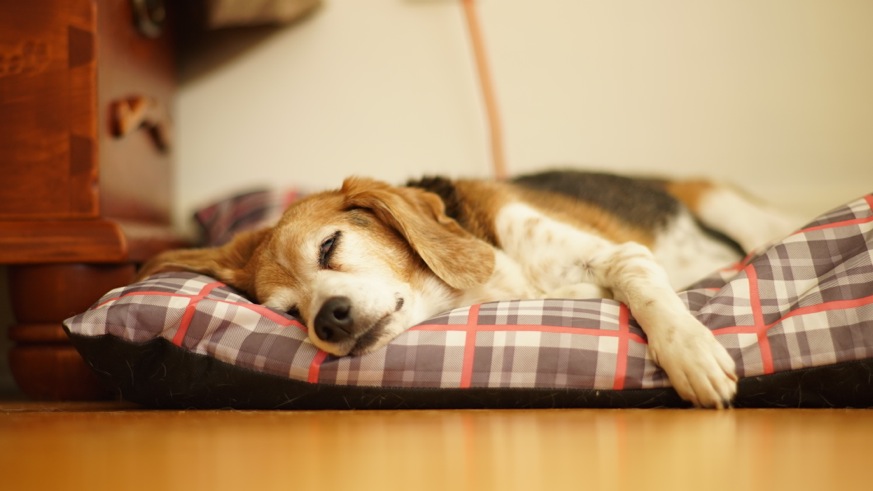 From the moment we brought Caylie home from the shelter, she had an impressive talent. She bats our couch throw pillows around with her paws and perfectly stacks one on top of the other; she climbs to the top of her pillow peak with the grace of a mountain goat and rests the day away. Barely anything warms my heart more than watching her do this. It's that cute; it makes me smile a hundred times over! With time, Caylie regained her health, and she and Seven formed a strong bond.
In many ways, Caylie is the exact opposite of Seven. She is playful, goofy, and consumes anything that remotely resembles food. She has an exceptional taste for the creamy, frothed milk topping of Tom's homemade cappuccinos, Chicago-style pizza, and an occasional Altoid. At night, she often places her furry, little noggin on my lap and falls asleep. She's the cuddle bug of the family.
Indeed, I wished the story of my chronic illness ended here–with one dog snuggled up on my lap and the other snoring peacefully in her fluffy bed. Nonetheless, it does not.
Sadly, my health didn't remain steady. I declined with rapid intensity until I was too weak to get out of the bed. I remained bedridden for eighteen long months before two doctors finally diagnosed me with late stage Lyme disease–a chronic form of Lyme disease for which there is no cure and no linear path to healing. To say that my dogs have been a source of joy and strength for me as I fight to reclaim my life is an understatement. Through hearty tail wags, loads of personality, and frequent doses of silliness, Seven and Caylie remain my beams of light along a sometimes dark and deserted road.
Years have passed since we became a family of four. Caylie is now 13, and Seven just turned the ripe, old age of 16. My two senior, rescue beagles are nourishment for my soul to continue the long journey towards improving my health. I had no idea that a couple of white-faced, old pups would continually renew my sense of hope, and be the best medicine I'd ever find.
I'd love to hear stories about how your pets have helped you heal. Please feel free to leave a comment.
Update: In the early morning hours of June 24, 2017, we said an unexpected good-bye to Caylie—the sweetest, white-faced old pup on the planet. Our hearts are crushed. We will love you forever, Caylie Bear. Thank you for always being the goofy, rocky-steady dog that brought calm and laughter to our family. Always in our hearts, precious girl. Rest In Peace, my best beags.
Update: On October 6th, 2016, Seven was laid to rest. Our hearts are broken, but we find comfort in knowing she is no longer in pain. Seven will always be our number one–the original member of @twosweetbeags. In loving memory of Sweet Seven Beags. January 2000 to October 6th, 2016. She was three months away from her 17th birthday.

No matter how many dogs we have in our lifetime, whether 40 or 50 years go by, you two will always have a piece of our hearts.